Dr. Inbal Yahav-Shenberger
Dr.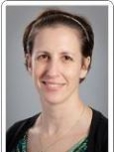 Office:
340; Building : 504
Research Interests:
Interface Between Data Mining and Optimization Models, Models for Healthcare Applications, Social Networks Analysis in the Contexts of Online Auctions.
CV
I am a faculty member at the Graduate School of Business Administration, Bar-Ilan University, Israel.
I received my B.A. in Computer Science and my M.Sc in Industrial Engineering from the Israel Institute of Technology and my PhD in Operations Research and Data Mining from the University of Maryland, College Park.
Research
My main interest lies on the interface between data mining and operations research. In my research work, I combine techniques from these two fields to achieve improved algorithms. I apply the methods mainly to health care applications and online auctions.
Publications
Work in Progress
Yahav I., Barnes S. and Golden, B., Early Detection of Bioterrorism: a Combined Social and Spatial Network Analysis. Submitted.
Yahav I., Network Analysis to Understand Consumers' Choice in the Film Industry and Predict Pre-Release Weekly Box-Office Revenue.
Shmueli G. and Yahav I. The Forest or the Trees? Tackling Simpson's Paradox with Classification \& Regression Trees
Published Work
Courses
Social Network Analysis (70-759, MBA Core)
Social Network Analysis is a second level MBA core course that examines the effect of social networks on different aspects of the society. The course covers three main topics: introduction to literature and applications of social networks, statistical and computational techniques to understand and analyze networks, and the evolving role of social networks in Organizations. It also introduces a variety of network visualization and analysis tools.
Advanced Reseach Methods (70-793, MBA Core)
This course focuses conducting research in the marketing and management domains. The goal of the course is to provide students with modern and advanced tools to plan, design, execute and report scientific research. Among the list of the topics are online data collection, data visualization, and advanced research tools.
Software Quality Assurance (70-761, MBA Core)
Software quality assurance is a fundamental element of software development. Quality assurance begins at product planning and continues through its entire life cycle. This class reviews the concepts, techniques, and issues of each stage in the software development process. In particular, it covers four main topics: quality assurance activities in a product life cycle, quality control, software quality standards, and quality-costs trade-offs.
Last modified: 26/09/2019